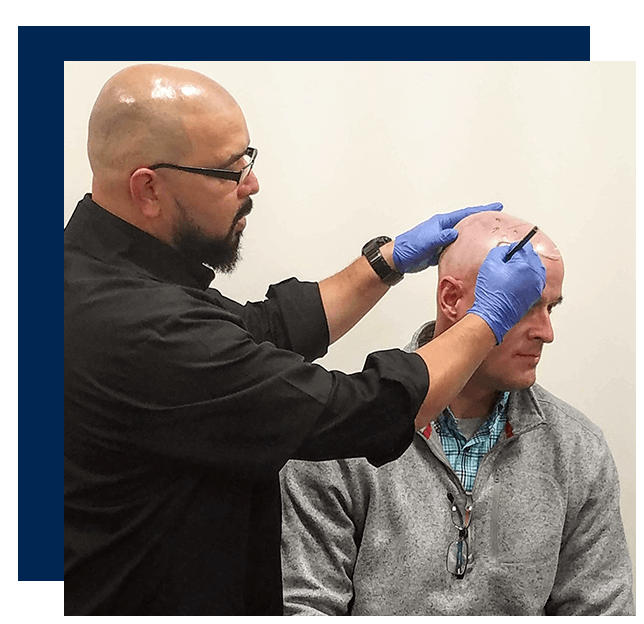 Scalp Artist International Technique
The Scalp Artist International technique is carried out with only the latest state of the art equipment. We use an array of sterilized single-use hand crafted micro-needles specially manufactured to penetrate the dermal layer of the skin. We are able to create actual replicas of hair follicles and micro hairs. Hair follicle replication is a detailed process in which each hair follicle must be considered as an individual task. The process of implanting specific pigments at the epidermal level is completed with a specialized technique to produce a natural looking hairline on the sides, front and back. This optical hair simulation will create a natural looking hair density on your head. The Scalp Artist International Technique requires a high level of attention in order to consistently achieve the most outstanding results, which we consistently produce.
What To Expect After Scalp Pigmentation Treatment
Our clients that have received the hair follicle replication have not experienced any kind of side effects, although some clients can feel temporary discomfort during the treatment. After the treatment, the skin may be slightly red and will fade away in just a few days. The new hairline may have a more defined appearance immediately after the dermal pigmentation treatment due to the fact that it can take up to a week for the hairline to cure.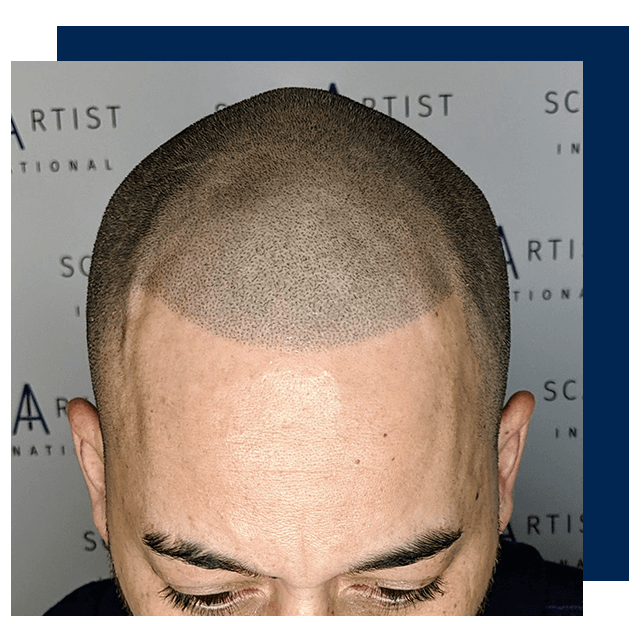 Advanced Scalp Micropigmentation (SMP)
Mastered Technique for Amazing Results
This is an example of how our impressions match the exact shape, color and size of the native follicle. The procedure isn't totally done so you can see the difference in the bald area compared to what we've created with our impressions. We blend our replications into the hair, leaving no line and totally unnoticeable and totally natural.The length that the particular client leaves their hair depends on personal preference. Some clients choose to shave with a razor, and others who leave some growth. If we are creating a totally new hairline and are not working in some hair at all, the shorty approach leaves a more natural outcome. As seen in the picture, the clients skin will get red for the first 8-16 hours, then redness will subside and you will have instant results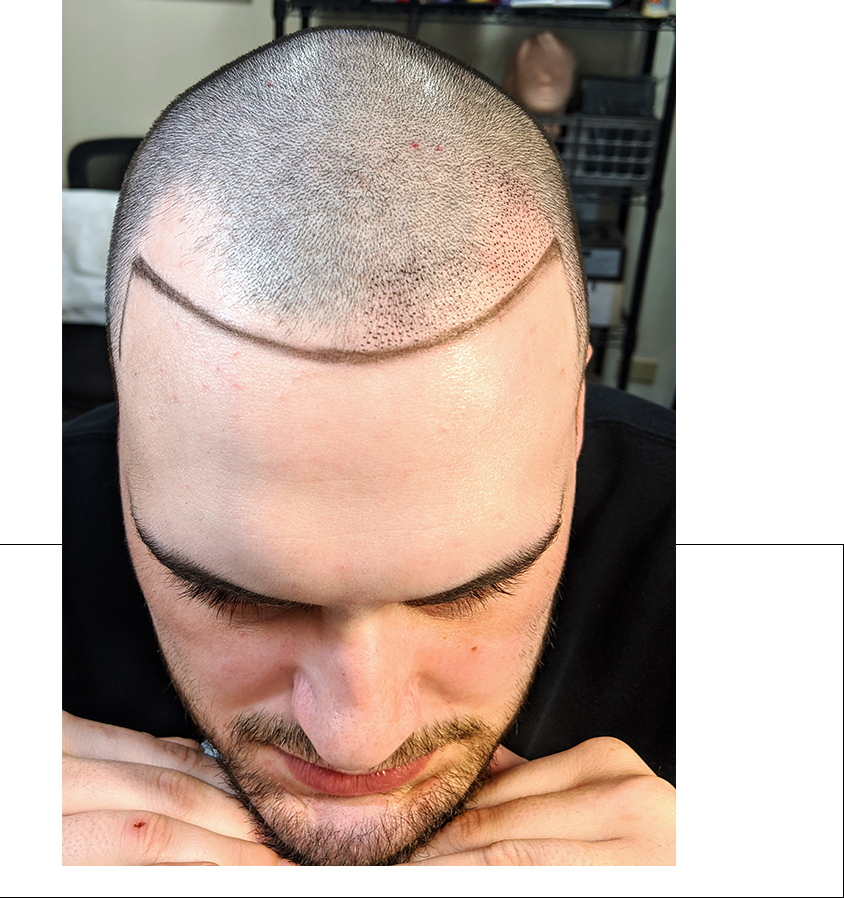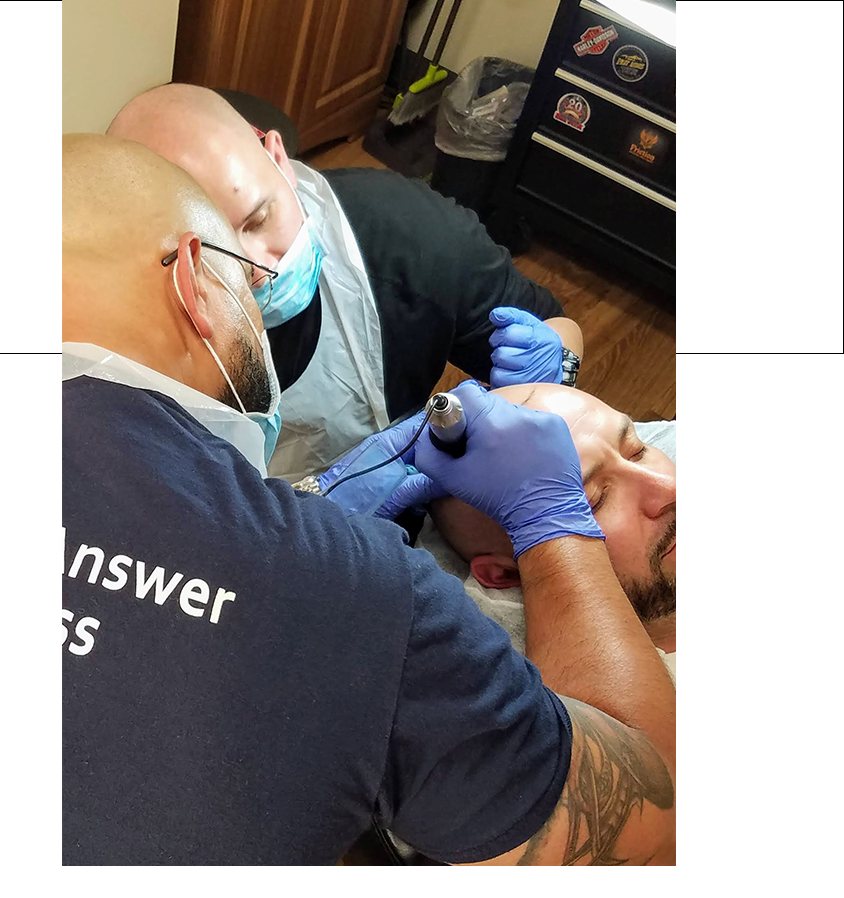 Traditional Head Tattoo vs. Scalp Artist International Technique
A traditional tattoo penetrates the epidermis and into the dermis where it bonds with the tissue making it dyed the color that is being used. Since they go through so many layers there is no control over whether the ink spreads or not. Tattoos that are placed too deeply into the skin cause scarring and why some tattoos are raised while others feel just like your normal skin. Also commercially sold tattoo ink can cause people to have allergic reactions with the most common allergies being reds and blues. The Scalp Artist International Technique uses single use, hand crafted needles, that are 75% smaller than commercially sold tattoo needles and are manufactured to penetrate the dermal layer of the skin. The technician is trained to control the implantation of the pigments during your scalp micropigmentation so there is no spreading of ink giving the results of replicated hair follicles. Since the Scalp Artist International Technique only goes through the dermal layer of the skin you will not feel raised bumps like those of a traditional tattoo.Our ink that is used is also specially designed with organic pigments so the chance of an allergic reaction is slim.
Pinpointing Who You Are and How We Can Help
At Scalp Aesthetics, we have worked with people from all walks of life and all age groups with problems from alopecia to very bad hair transplants, to young guys looking to get their hairlines back. Feel free to look through these categories of people you might think you fall into (or maybe between two of them), then give us a call at (844) 443-3296.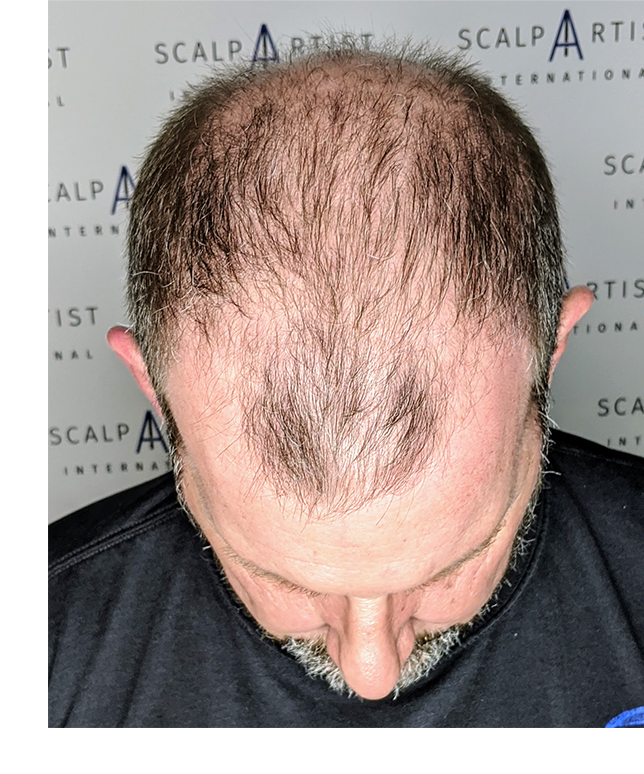 Thinning Hair
You have a good amount of hair but it is "see through" and you need density. When you wet your head it looks completely transparent and thin.  With our scalp micropigmentation procedure we can remove the "see through" look by laying down pigment which gives a denser more fuller look to your hair.  We can do this procedure with your hair being the length it is but recommend shaving it so we can be sure to add great density in the spots you need it. Our scalp micropigmentation procedure will be perfect for you because we can match your hair color perfectly and not just "come close". It will look very authentic and we guarantee you will be happy with your new thicker looking hair. Why go under the knife for an invasive hair transplant surgery?  Our hair restoration option is better because you won't have a scar on the back of your head and you won't pay tons of money. There is absolutely no down time and you walk out of our office ready to go to work the next day.